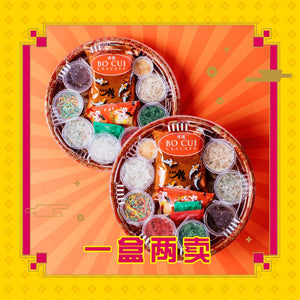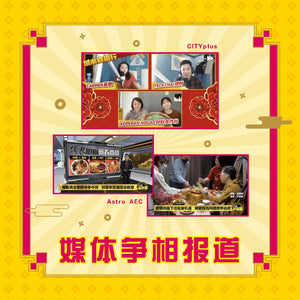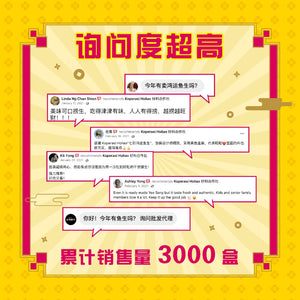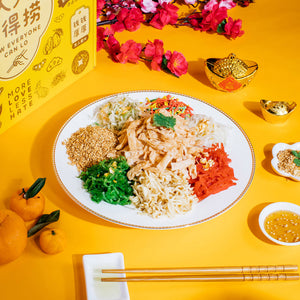 Regular price
Sale price
MYR 108.00
七彩鸿运鱼生 Prosperity Yee Sang (Original)
一盒两卖 (份) Contains 2 servings Delivers to all parts of Malaysia
---
* Orders will be delivered on 5th January 2023 onwards
* Last delivery date: 13th January 2023
* Self-pickup @ Setiawalk, Puchong (Mon-Fri, 10.00am-5.30pm)
 "人人有得捞" 鱼生 ("Now Everyone Can Lo" Yee Sang)

Lo with 'Yan Yan Yau Dak Lo' Prosperity Yee Sang with the Auspicious Wishes in the packaging, because good vibes come to those who Lo.
捞一捞,明天会更好!新年新愿望,心想事必成!捞一捞,提案反应好;捞一捞,面试表现好;捞一捞,情人爱到老!捞一捞,岳母易讨好!不管你是谁,何时何地,想捞就捞,独自捞,双人捞,群众捞,山上捞,海上捞,有愿望记得捞!
Flavour
原味 ORIGINAL
"原" 味吃进嘴,财 "源" 常跟随
Ingredients

NOW EVERYONE CAN LO Yee Sang gives you a colourful array of ingredients that include sliced papaya, sliced Chinese cucumber, sliced red ginger, sliced white ginger, sliced pickled leek, sliced dried lime, assorted sliced yam, topped with condiments like grinded peanuts, sesame seeds, bo cui crackers, pepper powder, and herbs spice powder… not forgetting ready-mixed sauce and fragrant oil for you to lace the Yee Sang with before you Lo, Lo, Lo!
《人人有得捞》鱼生七彩缤纷,食材包含瓜英丝、茶瓜丝、红姜丝、白姜丝、荞头丝、吉饼、芋头丝,然后撒上花生碎、芝麻、薄脆、胡椒粉和五香粉,再淋上鱼生酱和香油。让大家捞出精彩明天!
Serving Size
Each box contains 2 servings, each serving is good for 6-8 pax.
(Best consumed within 3 months.)

每盒包含2卖(份)鱼生,1卖(份)鱼生适合 6-8人享用。
(保质期:3个月)

适合五辛素食者食用, 若你不是五辛素食者, 可以选择不要加入荞头丝.
Vegan-friendly; you may leave out sliced pickled leek before mixing.

-------
For corporate purchases or buying 50 or more items, please contact us directly for a more convenient arrangement for you.